OP: Nemu
Source: TV
Layers: 3
Sketches: 4
Cel Number: A1, B1, C1
Oversize, 10.5W x 14H

No Background

Added 1/29/2018

After a glimpse of Kuu in the countryside, the scene shifts back to the courtyard of Old Home, where Nemu, the "sleepyhead" of the central cast, is having a quiet cup of coffee. The perspective pans up to her face, and she looks sharply up to the sky at the "shooting star" that carries Rakka's soul. Sequence numbers: A1 (back of chair), B1 (Nemu), C1 (coffee pot on table).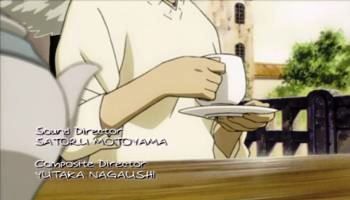 As with the others, this post-production cel came with a copy matching background provided by Radix, the studio that produced this series. Move ahead for a closer look at this copy background. The thumbnails add two of the four sketches that came with the rilezu, the B1 showing Nemu's body and hands holding the coffee cup, which move first in this cut, and a second layer that animated her head, which moves more dramatically as the cut develops.




SENSEI CHECK!

Nemu (眠, "sleep") is the Haibane who has been at Old Home for the longest time, nine full years. She thus preceded Reki into this world and has served as her confidante during her earlier days of rebellion. The "dream" with which she arrived was simply one of her being asleep, and her habit of napping at odd times becomes one of the comic motifs of the story. If her new name reflects how she ended her previous life (as is true for both Rakka and Reki, and possibly also for Kana) and if the elder Haibane are working off karma related to their suicides, then possibly Nemu killed herself by taking an overdose of sleeping pills.

Kazusa Murai (村井 かずさ) voiced this quiet, calming role, but her dossier includes a wide range of parts in other series that show the range of her acting abilities. Among these is Maria, the bitter, obsessive opponent of Misaki, in a key episode of Angelic Layer .




Caution! Fussy Notes

There are three other rilezu cels from this cut in Rubberslug galleries. None of them provide sequence numbers, but they all show moments that follow my A1/B1/C1 setup. Two show Nemu raising the teacup toward her mouth: first, the one owned by Natsume Goushin Ryu Cel Dojo, and then its near sequence-mate, the one in Doug's Cels. Afterwards, Nemu notices the "shooting star" in the sky and, in the one found in Just a few cels, she looks sharply up.

All these galleries note that their item came with at least two sketches, and Natsume Goushin Ryu Cel Dojo says it came with four sketch layers: the back of Nemu's chair, Nemu's head, the rest of Nemu's body, and the teapot. Mine also came with four sketches done on oversized sheets (14.5 x 10.25), which for some reason were trimmed on the right edge, taking off the number in the upper right corner. (These are recovered from the cel sheets and inspection of the released OP.) As with other rilezu sets, these are not production dougas but "clean-up sketches," presumably traced from digital images provided by Radix, the studio that produced the series. (All the original pencil-on-paper Haibane Renmei art was apparently destroyed by this studio after production wrapped.)

However, the rilezu art for this image differs from those I've obtained from other moments. First, the cel art was executed on three separate cel layers, while others combined all the layers together into one layer. Also, the sketches do not have the shading on the back that is prominent on sketches from other rilezu, nor do they show shading on the front, as in earlier cel-based dougas. One assumes that the cel painter worked from some separate sheet or exemplar showing where to use the cel paint variations for the highlights and shadows on this image.


Click to open in new window