Sad Chao
Source: Movie
Layers: 1
No sketches available
Cel Number: B10
Oversize, 14W x 9H

No Background

Added 11/12/2017

Scene 2, cut 53, according to notations on the top of the cel. The cat Chao (Chow in the manga translation) has been discarded by the farm family who owned her, and Unico encounters her floating down a stream in a basket. While she is somewhat excited to be off on an adventure, when Unico asks her story she becomes despondent about being abandoned. Sequence number: B10.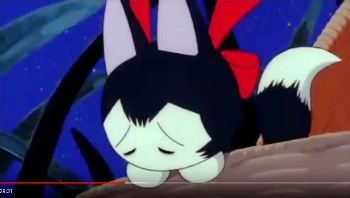 The screen cap is approximate as I could not get an exact frame to freeze. I've suggested the basket in which Chao is riding with a piece of art paper.