Mokona protecting Primera: genga
Source: TV
Layers: 1
Sketches: 1
Cel Number: A1 END, B1, B2
Oversize, 15W x 12H

No Background

Added 11/11/2017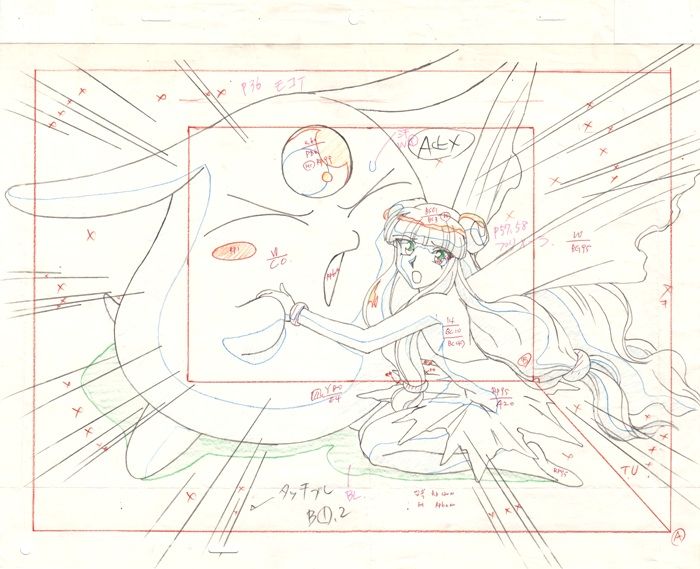 Episode 48 (An Endless Battle!). As the story moves toward conclusion and the Knights begin to make headway against the opponents they face, each crisis shakes the world of Cephiro to its core, causing increasingly strong earthquakes. Here an especially damaging tremor brings down part of the roof of the castle's plaza.

Mokona, who has sheltered his new friend from previous showers of debris, grabs her and wonders how they're going to escape this danger. Sequence number: A1.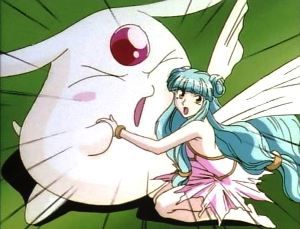 The cel and its possibly matching background has been one of my cherished for nearly ten years, when I picked it up as a Christmas present to myself. So it was an equal delight to see the genga appear on Yahoo Japan and rejoin the two pieces of animation art. Like other oversized MKR gengas I've obtained, this one has been folded tightly in the past, but came flattened and in otherwise good shape.

This sketch works out the dynamics of the dramatic zoom in on the two and adds dramatic converging lines that would emphasize the zoom and also the rubble about to fall on top of them. (Spoiler: Ascot saves them.) These would have been printed on a top layer (two alternating layers, one notes from the notation on the genga), which has been lost from the surviving set-up (see next item).

The sketch is full of interesting fine points that aren't easily visible in the cel (and not at all in the broadcast image). Notice that one of the artists has added a little sweatdrop on Mokona's forehead, just to the right of his red jewel. That was duly added on the front, white ink on white paint, and is totally invisible on the screencap and on the scan of the setup. But, when I noticed that, I got the cel out and looked at it closely under good light and ... by golly, it is there on the sheet.

Details ... details.