Tohru listens to her grandfather 1
Source: TV
Layers: 1
Sketches: 3
Cel Number: A1
Standard size

No Background

Added 11/10/2017
Updated 12/25/2017

Episode 5 (A Rice Ball in a Fruits Basket), cut 245. Tohru has been invited back to the home of her grandfather, where she had lived until renovations forced her to move into the tent where we found her at the start of the series. However, she finds that her parents' counterculture life has made her the butt of her relatives' disdain. As before, she ruefully recalls, she is cursed to be termed an onigiri while everyone else is happily playing the game Fruits Basket (in which all the active participants are given names like "apple," "pear," banana," etc.)

Here she is listening intently as her grandfather apologizes for his family's tactless behavior and suggests that, if there is another place for her to live, she should do so and find room to spread her wings.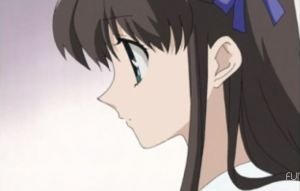 This is not a very dramatic cut, with Tohru standing still for a long time listening to this monologue. But complete sets of Furuba sketches are not common, since they were so routinely taken apart and sold item-by-item when the series was popular. So this set, which included the whole run of layouts, roughs, shuusei roughs, gengas and shuusei gengas, was worth obtaining to get insight into Studio Deen's production process.

Featured above is a fine, colorful rough of this start keyframe, likely by the episode's animation director, Haruo Sotozaki (more on him below). The thumbs add the copy layout that the rough corrected and the resulting genga.




SENSEI CHECK!

This episode was storyboarded and directed by the veteran animator Keiji Gotoh [後藤圭二], best known by followers of this gallery as the character designer and chief animation director of Hyper Police. Starting with Thundercats (1985, inbetweeners) and Transformers (1987, ditto), Gotoh's career took a more prestigious turn when he became character designer for Sorcerer Hunters (1995), Martian Successor Nadesico (1996), and Those Who Hunt Elves (1996). Also a manga artist, Gotoh adapted the video game Gate Keepers (1999), then served as chief animation director of the anime adaptation (2000). During this he moved up to episode director, a job he also took the following year for Fruits Basket (this episode and 22). He became overall director for Kiddy Grade (2002) and has served as series director, episode director, animation director, and key animator for a variety of titles since then.

The episode's animation director was Haruo Sotokaki [外崎 春雄] another artist who graduated to the episode director's position. He supervised animation for six episodes of Fruits Basket (5, 10, 15, 20, 23-24) as well as being overall director for the last three of these episodes. He put in quite a bit of work on the Inazuma Eleven franchise as well as for Naruto, then he became series director of Tales of Symphonia (2007) and, most recently, Tales of Zestiria the X (2016).


Click to open in new window