Tohru listens to her grandfather 2
Source: TV
Layers: 1
Sketches: 4
Cel Number: A3
Standard size

No Background

Added 11/10/2017

After some intervening cuts, including a soft-focus image of Tohru's mother, the old man finishes his little speech: "Kyoko" (the old man's daughter and Tohru's mother) "would agree with this . . . and so would Katsuya!" That mention of her father's name momentarily shocks Tohru. At the moment the audience doesn't know why, but those who have followed Takaya-sama's complex narrative to its end can understand why she finds this mention unusually puzzling.




I've again featured the rough (probably by episode animation director Sotozaki), even though it is less finished than the previous keyframe. Still, it vividly captures the drama of Tohru's little gasp. Again the thumbs add the layout (this one very faint but autograph) and the resulting A3 genga.

This complete run of sketches (missing only the dougas) also included the post-genga shuuseis, which were executed on light green paper like the roughs, so they are probably also by Sotozaki. This one, for the A3 genga, shows a careful eye for details like the little ribbon on the side of Tohru's head and just how much she opens her mouth in her little gasp.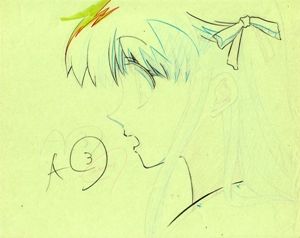 The sketch set also included a few rough shuuseis, on yellow paper, which show a different touch and may be by the series's chief animation director, Akemi Hayashi, or possibly by episode director (and veteran animator) Keiji Gotoh. They are all partials, though, and have not been imaged. Still it's enough to show that the animation process followed a process seen in more detail in the material I've gathered from CGI series of the same years such as Asatte no Hōkō and Rozen Maiden, in which the episode animation director's work included the rough and post-genga shuusei, and the rough was routinely polished by a senior animator.


Click to open in new window