Kagura looks on disdainfully
Source: TV
Layers: 1
Sketches: 3
Standard size

No Background

Added 10/11/2017
Updated 10/11/2017

Cuts 127, 141, 170. The oni's energy ball explodes into a huge ball of fire, apparently annihilating the newborn baddie, but even as the smoke drifts past Kagura, she continues to look on with utter contempt, knowing that Rengokuki is not going to prevail over Naraku's avatar so easily.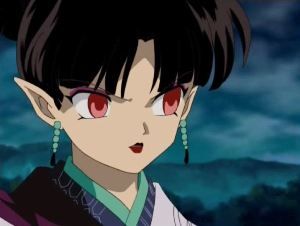 Again, the rather static pose in the layout above was changed dramatically during production. Kagura now is seen again in a three-quarters portrait, looking to the right at the action. The thumbnails below show two early drafts of this alteration, one an impressionistic but effective one done in blue colored pencil and touched up in graphite, and another, more careful one that refines Kagura's expression and the lines of her outfit.

The cut numbers on this sketch proved to be the most important clues to identifying other cuts in this scene. Even though no image in the final version shows the head-on pose in the layout, only one pose appears three times, and in the proper places, and that is the one shown in the screen cap. A little later, it appears with Kagura's eyes turned a little toward the viewer, a shift planned out in an interesting partial in the sketch pack: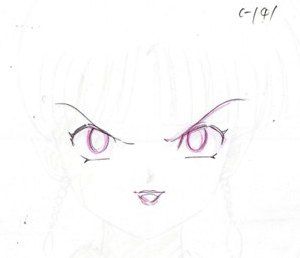 But actually Cut 141 also shows Kagura's face pointed right and in ¾ profile: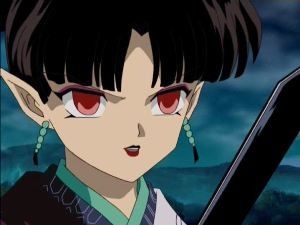 And finally Cut 170 is similar to the pose of 141 as Kagura watches Rengokuki rush at her companion, with a rather more sinister smile as she knows he's met his match.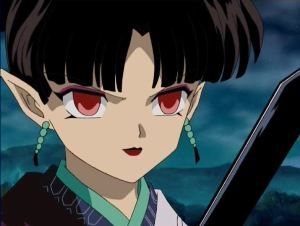 Clarifying the order of these cuts then made it much simpler to count the intervening sequences, finger those that went with the other numbered layouts, and identify the cuts that went with unnumbered sketches. Thank you, Kagura!


Click to open in new window