Rengokuki propositions Kagura
Source: TV
Layers: 1
No sketches available
Standard size

No Background

Added 10/10/2017
Updated 10/10/2017

Cut 120. This and the following series of sketches represent trial drafts and rejected ideas from the middle of this episode. This plot focuses on a powerful horse-demon named Entei, whom the Inu-tachi have to overcome to obtain the next jewel shard. Entei is at first controlled by Rengokuki, an oni, a Japanese ogre distinguished by having a horn coming out of his forehead, but otherwise similar to big, man-eating, but essentially stupid and arrogant ogres in other world traditions.

After an encounter with Inuyasha and the others, Rengokuki and Entei happen on the villainess Kagura, to whom he takes a liking. He propositions her, saying that if she joins forces with him, they can conquer the world.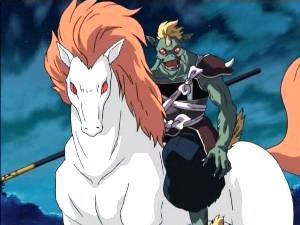 This genzu, though rough, is close to the screen cap in pose and design. It was accompanied by a partial sketch in colored pencil (not imaged) that works up Rengokuki. However, even though it is more finished than the featured draft, it is quite different from the final image. Added in the thumbs are an even more preliminary sketch of the oni sitting on Entei's back and a partial sketch of Rengokuki alone that captured his rather skuzzy look and arrogant expression.


Click to open in new window