Hikaru saddened by Emeraude's attack
Source: TV
Layers: 1
Sketches: 1
Cel Number: 1
Standard size

No Background

Added 9/27/2017

Episode 20 (The Unbelievable Truth About the Legendary Magic Knights!), cut 133. In the first series finale, the Knights slowly realize that the princess they'd worked so hard to liberate now is ready to take them on as an ultimate antagonist. They dodge Emeraude's first attacks, and then we see Hikaru, first saddened by this unexpected turn of affairs.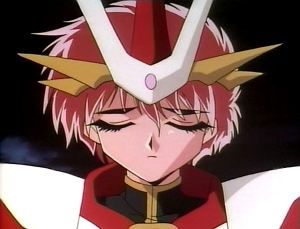 This simple pair of layout sketches were one of my early anime sketch acquisitions, as part of Anime Chaos's big 80% discount sale in Spring 2004. They are clearly by the same artist as my set of Emeraude layouts from later on in the same episode (which were purchased at the same time), but the animator's identity remained a mystery. Thirteen years later, when I pulled the sketches out of storage to inspect their condition (still sharp) I realized that they shared an odd stylistic feature in common with several of my layouts from Episode 49. The eyes were drawn not as ovals but as angular rectangles in all of these. That then led the look closely at the credits to see who worked on both episodes.

That pointed out another oddity: no one was credited with the animation direction of Episode 20. But, I now knew, it was customary for the character designer to supervise the first and last episodes of the season. That was Atsuko Ishida, and she was credited with the animation direction of Episode 1, as well as Episodes 30 and 49 of the second season. (Keiji Gotoh did Ep. 21, the first in Rayearth 2.) That suggests that Ishida did these layouts, using the same "boxy" habit of defining the dimensions of the eyes. It is interesting that many of the roughs for Ep. 49 show rectangular eyes even if these were rounded out in a more naturalistic way during the animation process.

Note: This item was originally uploaded to this gallery on May 28, 2004 (359 visits). In order to replace a poor scan that made this sketch look too much like a photocopy, I've had to delete the item and upload it again.