Elder Jun trapped in Kirakishou's thorny web: Reanimation
Source: TV
Layers: 1
Sketches: 19
Cel Number: A1-A19 END
Standard size

No Background

Added 9/5/2017
Updated 9/5/2017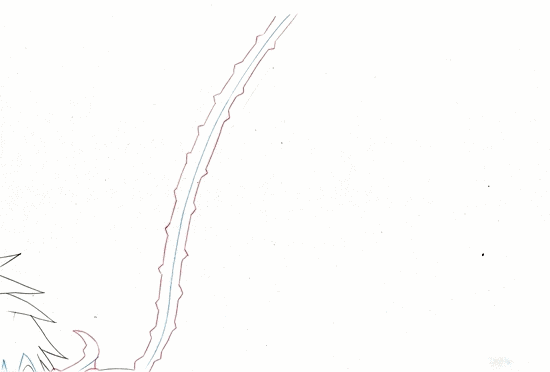 The nineteen dougas for this cut were all complete, so I was able to reanimate this cut following the timing sheet. The action is very simple, the frames coming in at the normal eight-to-a-second ("on threes"). In the final version, Jun's body is in deep shadow, however, so, on watching this reanimation over and over, one gets the feeling that this was designed to be "good enough" rather than showing the surprising "largesse" of really good anime work.

Notice, for instance, how Elder Jun does not have to strain against his bondage, but simply gets up and turns around. And watch the two tentacles that rise over his head, one on the left and one on the right. When he turns around and the two shift places, the one on the left simply vanishes rather than wrapping around his back. Meanwhile the other one, that shifts behind his head, doesn't reappear in stages as it should, but simply reappears out of nowhere in the final frame. (And, yes, that's the way the animation ran in the final footage.)

Ah, well, hardly a critical scene, ne?