Shinku views her reflection 1
Source: TV
Layers: 1
Sketches: 3
Cel Number: A1, C1
Standard size

No Background

Added 8/30/2017
Updated 9/5/2017

Episode 6, cut 179. In Elder Jun's bathroom (we remember that Shinku considered its counterpart in Younger Jun's house a "very special place"), the doll looks wistfully at her own reflection in the mirror. She's aware that her physical presence in this world has a very short time limit, and after seven days her body will dissolve. Suigintou (who has joined Shinku, fleeing the baddie Kirakishou for her own reasons) brusquely reminds her that this mirror provides no link between worlds.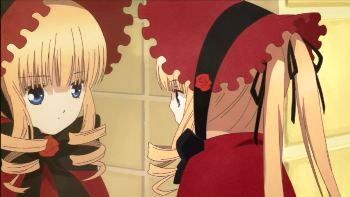 This simple cut involved just one image, with two parallel images of Shinku: the real one and the mirror image. However, it is made the more complex, as the reflection is a three-quarters portrait while the real one is a partial one-quarter view of her face. This meant that the pose went through more levels of serious revision than in most cuts. The image featured above is the rough, seemingly a strong effort (but see the next item!), with the first layout (faces too small, too far apart) in the first thumb, and a sketchy layout correction that set this problem straight in the second thumb.




SENSEI CHECK!

Episode 6 was directed by Naoki Murata [村田 尚樹], a relative newcomer to the industry who has done episode direction also for Modern Magic Made Simple and Srine of the Morning Mist. Murata also directed Eps. 2 and 9 of Zuruckspulen. Animation direction was credited to Kumiko Horikoshi [堀越 久美子], who also worked on Eps. 2 and 11, and to Youichi Ishikawa [石川 洋一], who worked with Horikoshi on Ep. 2. Horikoshi did much work for the long-running Naruto Shippūden franchise and for Yamibou, and was chief animation director of the 2007 Studio Deen production of the historical supernatural series Shōnen Onmyōji .

Without more examples of sketchwork, it is tricky to make an attribution for the rough featured above or the others in the thumbs. But note two interesting features: the strong use of an orange pencil for the basic outline of the first-level sketch, which then is worked up in graphite for the finished second-level sketch. In my scanner, the orange shows up a bit more than it does to the eye, making the outlines seem to glow a little. Then note the "Yoroshiku onegaishimasu" note at the top of the rough. This polite phrase (here meaning something like "I hope you approve of my work") is sometimes used habitually by animators, especially those who worked on Asatte no Hōkō. But this custom isn't as prevalent among RMZ artists.

Now compare the rough for Ep. 10, cut 188, which has the exact same distinctive properties (orange outlines, "Yoroshiku" comment). That makes it likely that this cut (like the next item) was supervised by junior animation director Youichi Ishikawa, who assisted Horikoshi on this episode and senior AD Akiko Matsuo on Ep. 10. Ishikawa served as a gengaman for Attack on Titan, Fruits Basket, and Ruroni Kenshin and somewhat less often as episode animation director (DearS, Gunslinger Girl, Texhnolyze).

Another is that two other sketch sets that I have from episodes supervised by Horikoshi ( RMZ Ep. 11 and Yamibou Ep. 7) contain rough layout corrections on pink paper (see thumbnails in both these linked items). These pink-paper sketches I infer must be Horikoshi's work, and so the first-level layout correction in the second thumb might well be from this artist, intended as a guide to his junior partner Ishikawa.


Click to open in new window