Shinku hears Hinaichigo through the mirror: A1
Source: TV
Layers: 1
Sketches: 3
Cel Number: A1
Standard size

No Background

Added 8/29/2017
Updated 8/29/2017

Ep. 1, c. 346. In the final scenes of the opening episode, which reviews (in a nice self-aware way) the way in which the first Rozen Maiden plot ground to stalemate, Shinku comes to the antique mirror that she had used as a doorway to the other worlds and looks out into a world dominated by Kirakishou's thorny briars. Then she is shocked to hear the voice of Hinaichigo, whose body has just been appropriated by the series baddie.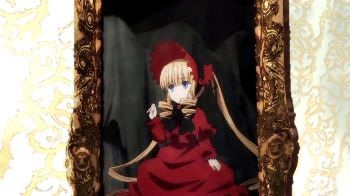 This sketch set came with a fine art board working out the entire frame, which I've featured above. The very fine rough for the opening keyframe is added in the first thumbnail, with the matching genga in the second thumb. The scene goes by very quickly, too quick to notice or appreciate the skill with which the animator revised the pose of Shinku's right hand, held up, but (in the rough, genga, and screencap) now tentatively half-open.




SENSEI CHECK!

This episode, like the crucial Ep. 11 and the final ep. 13, was directed by Mamoru Hatakeyama, who served as the series director. Hirofumi Morimoto [森本 浩文] and Akihito Asai [浅井 昭人] were credited for animation direction of Ep. 1. Morimoto was one of the dominant artistic forces in this series, directing or co-directing six of the 13 episodes (this and 5, 9-11, and 13) and serving as chief animation director for three more (4, 11 and 13) . A widely-experienced animator, he had previously done gengas for Rurouni Kenshin, You're Under Arrest, and Fruits Basket, and also episode animation direction for Getbackers and Maria Watches Over Us. He is best known as Chief Animation Director for the hit comic series Is This a Zombie? Asai, who worked with Morimoto on Eps. 5, 9, and 13, had previously worked under the artist as episode animation director for Is This a Zombie?.

Without attested examples of each artist's work, crediting sketches to one or the other is tricky. However, even while Morimoto never worked alone as animation director on any of his six episodes, most of the roughs I've obtained from these episodes share a fine-lined attention to detail, especially the little cloth triangles lining Shinku's costume in this series (I call them her "shark teeth"). So I think I'm safe in attributing the rough added in the first thumb to Morimoto.


Click to open in new window