Sango possessed
Source: TV
Layers: 1
Sketches: 3
Cel Number: A1 END
Standard size

No Background

Added 8/19/2017
Updated 8/27/2017

Ep. 132: Priest Miroku's Most Dangerous Confession, cut 182. This episode is part of a two-part canonical story concerning the growing mutual attraction of Miroku and Sango. In this second part, Sango is possessed by the spirit of a monstrous salamander, and when the priest rushes to exorcise the demon, she impassively attacks him. Here we see Sango as she first confronts Miroku, rising out of the waters of the water monster's den, an ominous miasma seeping from her lips.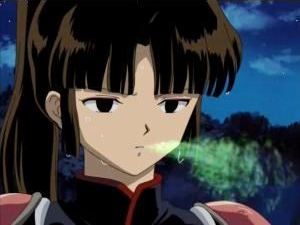 Featured above is a fine rough, executed by the animation director for this episode, Mamiko Nakanishi. This sketch shows the careful way in which she worked up the detail of Sango's hair and costume, even below the lower line, which shows the bottom of the frame that would be visible to the audience. This makes the eerie zombie-like expression even more telling.

Included in the first thumb is the layout. In the lower right corner it bears a penciled trademark that was the distinctive mark of approval used by episode director Masakazu Amiya. Similar marks can be seen in layouts from Episode 122 and Episode 144, also directed by Amiya. The second thumb includes an interesting genzu or planning sketch that works how the miasma would move during the very slow pan during this three-second cut.




SENSEI CHECK!

Mamiko Nakanishi [中西 麻実子], was animation director for eleven other episodes. An interesting Inuyasha Director Guide at the website Rumic World comments that she "brought an very high quality to the episodes she worked on," which are "extremely detailed and beautifully rich in color." Most of her other credited work has been as a key animator for a huge variety of series, ranging from Cardcaptor Sakura to Attack on Titan. She has contributed art to projects as diverse as Pokemon 2000 - The Movie, Fullmetal Alchemist, NANA, two of the Naruto movies, XXXHOLIC, first and second seasons, and the big hit Puella Magi Madoka Magica (2011).

Elsewhere in my gallery you can find examples of Nakanishi's work from Episode 117, from Episode 137, and from Episode 144 .


Click to open in new window