Hans meets the Princess
Source: Movie
Layers: 1
No sketches available
Cel Number: A27, A29. A30, A31, A43, A58
Oversize, 11.5W x 10H

No Background

Added 6/8/2017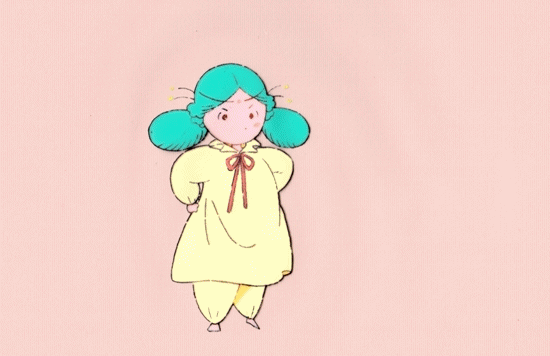 Seeing the lovely sleeping princess for the first time, Hans drifts into an enjoyable romantic reverie, from which he is rudely awakened. This royal lady is in no need of being rescued; she leaps out of bed and brusquely confronts the intruder.




Hans's rushed explanations fall on deaf ears: the dauntless princess steps up and grabs the unlucky adventurer by the ear, planning to drag him off to the dungeon herself.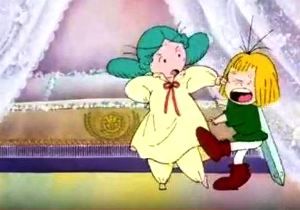 But her quick move pulls Hans off balance, and he at once flops onto the bedroom floor. The alert princess shoves him down to make sure that he stays there.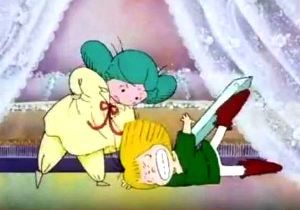 This series of related cels begins (A27) and ends (A58) with images of the princess alone, but it includes four close sequence-mates (A29, A30, A31, A43) showing her nabbing the peeping tom, so I've displayed them as a simple reanimation, giving the first image and the last two a little extra time.

Poor Hans! Lucky for him he's got a magic pendant that the princess just has to have, so he doesn't have to endure treatment like this -- until the closing animation, through all of which poor Hans has to run as fast as he can with an angry princess armed with a broom hot on his trail.

Still scans of the A31 and A43 cels, showing both the princess and Hans, are added in the two thumbnails.


Click to open in new window