The Princess Refuses to be Kissed
Source: TV
Layers: 1
No sketches available
Cel Number: B10
Standard size

No Background

Added 4/6/2017
Updated 4/6/2017

Cut 142. The infamous magic kiss now seems inevitable, and we see Sakura's face come closer and closer to Syaoran's. One cut shows Sakura, puckered up and eyes shut. Another shows Syaoran's panicky eye (the ethics-dominant right eye, of course) in a tight close-up.

And then suddenly a flash cut to -- huh what?!? -- Mizuki-sensei's lips?

And at the last possible moment, the sleeping princess jumps up in bed and pushes the prince away! Sequence number: B10.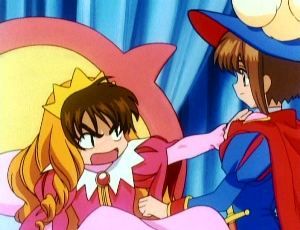 Screencap (approximate) courtesy of Desertmoon.org

As you can see from the screen cap, the image is incomplete, as the cel for Sakura would have been on the A level, and so it would lie under the image of Syaoran on the B level, even though when photographed it would appear to be in front of the reluctant now-awakened beauty.




SENSEI CHECK!

It is worth noting that in the Grimm Masterpiece Theater/ Grimms' Fairy Tale Classics version of "Sleeping Beauty," the Prince likewise does not succeed in planting the magic kiss on the princess's lips. Instead he ends up pricking his own finger on the sharp thorns of the briar roses that surround the bed and making such a fuss as a result that the princess awakens.

That, however, was a decision based on the notion that kissing was too intimate an act to show in young children's programming. The adaptation is, however, full of disturbing symbolic imagery of other kinds, based on scholars' belief that the tale is based on a girl's anxiety about her first menarche.

Cardcaptor Sakura is made of tougher stuff, and so Syaoran's refusal to play along with the role of the princess has a more complex psychosexual significance. And that is, I think, why Mizuki intrudes in place of Sakura at the critical moment. If Sakura's infatuation with Yukito has a deep link with her Oedipal affection for her own father, then it makes sense that Syaoran's love-hate relationship with the schoolteacher must connect with his problematic Oedipal relationship with his own mother.

Of course a similar love-hate relationship lies at the heart of the plot of the first movie, and if Clow Reed is the magical avatar of Fujitaka, then Madoushi must be the alter ego of Yelan, Syaoran's powerful mother. Kaho Mizuki also resonates with the power of the Moon, ne? So she subliminally reminds Syaoran of his mother just as Yukito reminds Sakura of her father. (CLAMP is pretty explicit about this second point, those who have watched the series to the end recall.)

Remember, it is Syaoran's decision to break frame at this point of the school play that allows The Dark to make her move and separate Sakura from him in a world of shadows.

Part of Mizuki-sensei's evil plot? (Notice how she creeps around the edges of the action, as if she knows full well what's going to happen next.) Or something deeper, more psychologically insightful? Something CLAMP learned from close understanding of how fairy tales like "Sleeping Beauty" work?