Mokona Frightens Presea
Source: TV
Layers: 1
Sketches: 2
Cel Number: A1 END
Oversize, 10.5W x 12.75H

Original Matching Background

Added 4/5/2017
Updated 5/28/2017

Episode 6 (Lives at Stake - Presea's Weapons), cut 95. Ascot has created a magical lure to attract one of his monsters to Presea's lair. He throws it through one of her windows, and we see it hit the armorer's back, magically pass through her, then turn into a piece of paper-wrapped candy like the one Hikaru gave her. Presea picks it up from the floor and, still amused at the little girl's gesture, she unwraps it and pops it into her mouth. At that moment Mokona comes flying through the window and lands on her back, making the candy pop back out.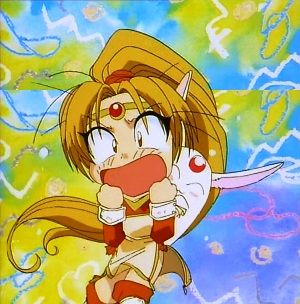 (Presumably, if Mokona hadn't done this, Ascot's monster would have been able to kill Presea before she was able to craft the Knights' weapons.) The thumbs add the nice A1 douga and a much more preliminary layout image.




Caution! Fussy Notes

The background is, as I'd hoped, original and matching, though it lacks an episode/cut marking on its corner. The dealer's scan, which showed the background in portrait orientation behind the portrait-shaped pan cel, could not be matched up with any of the screen captures I got from the final version, making me concerned that it was an unmatching bg using a similar approach. (The artist used wax-based crayons to scribble on the paper before applying the watercolor paint, which did not soak into the paper where the scribbles were made, a technique I've used when dying Easter eggs.)

The mystery was solved when I obtained the item and found the cel carefully bagged separately. The seller had scanned it against the background placed behind it in portrait orientation, which made sense, as the oversized cel was also painted in portrait orientation and looked good put against the background.

But when I separated the two, I quickly was able to find a way to duplicate the screen cap. But that involved mating the background in landscape orientation. The oversized cel overlapped both the top and the bottom of the background in this mode, so when the cel was photographed, it was placed on top of it in a slightly diagonal position. As the camera panned from top to bottom, the background was slowly "cheated" down with it a little more quickly so that it still fit on the bottom.

I've done the same with my scan, except that rather than "cheating" the background, I've simply combined two scans, one that matches the first frame and another that matches the end frame. You'll see that the pattern on the background thus repeats a little toward the bottom. The screen cap, which combines grabs from the start and finish of this cut, also shows the effect. In the actual cut, however, the motion of the background against the cel would have been too gradual to notice.

For a closer look at the background, go to "Private Area," enter the password "seemorestuff," and return to this gallery.


Click to open in new window