Ep.1: Tohru leaves for school
Source: TV
Layers: 1
Sketches: 3
Cel Number: B1 END
Oversize, 10.5W x 18.5H

No Background

Added 4/4/2017
Updated 6/28/2019

Ep. 1 (The Strangest Day). The opening episode opens, like the manga, by showing the series protagonist in her tent in the woods. She cheerfully takes leave of her mother's framed photo, and then heads off for school. We see her in the middle of a happy little skip while looking back over her shoulder at the tent she first calls her "home."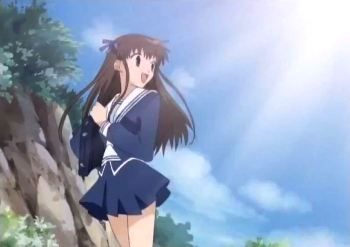 We see Tohru in a close shot, and then a lightning-quick twisting camera move pans back to a long shot near the entrance to her little tent.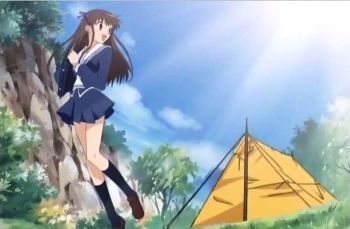 Unfortunately folded, wrinkled, and discolored toward the bottom by careless storage, this B1 genga nevertheless is one of the nicest Furuba sketches I've seen on the market. Many of the cuts from this series were broken up by dealers for sale when the series had a large number of followers in Japan and worldwide. As this set lacked the original layout and rough, plus the final douga, it's likely that this happened to this set as well. However, it is more complete than most, giving us an unusual chance to see a bit more of Studio Deen's production process.

The image is clearly based on a familiar frame in Natsuki Takaya's acclaimed manga.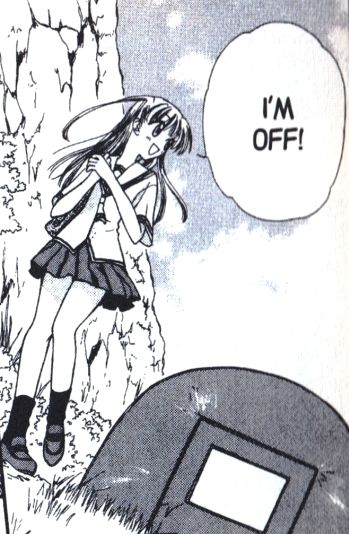 The poster-sized genga featured above was accompanied by two even larger photocopies, one (not imaged) evidently of the rough and the other (first thumb) of the original layout. It looks as if the scene had previously been planned out on standard-sized sheets of paper, which were radically enlarged in the photocopies to make the swift twisting track-back more dramatic. You can see in the layout copy how the cut was planned to begin with a shot of Tohru's face and torso, then quickly pan back to show the woods, the tent, and the ominous crumbling cliff looming above her.

The set also included an autograph shuusei genga that made some minor changes, especially in Tohru's flowing hair. This pretty sketch, sadly battered at the bottom and discolored by celotape in the middle, must be the work of Akemi Hayashi, character designer and chief animation director of the series, who also personally directed the animation for the opening episode.


Click to open in new window