The Chameleons accost frozen Natsuki
Source: TV
Layers: 1
Sketches: 3
Cel Number: A1, B1
Standard size

No Background

Added 3/15/2017
Updated 7/26/2019

Episode 10 (Say Goodbye to a Cold Jail Cell). Swept up by the authorities during their raid on the child sex ring at the end of the previous episode, Natsuki has been partially frozen and is awaiting a cruel fate in prison. Suddenly two other hard-boiled culprits attract her attention, asking her to join their plan to break out.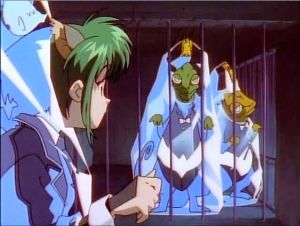 Featured above is the shuusei genga of the B1 Natsuki layer, with the genga it corrected in the first thumb and a complete shuusei of the A1 layer of the crooked chameleons in the second thumb.

The B1 layer had its sequence holes repositioned on both the genga and shuusei, sadly involving extensive use of corrosive celotape. The episode animation director, in addition, did a nearly complete revision of the image, as you can see in the "flicker" below. Notice how the position of her partially frozen hand has been altered, and also how she now looks farther toward the chameleons, turning a simple profile into a more demanding one-quarter view. Also that her shoulders have been plumped up to make her less the shrinking violet of a girl and more into the athletic bounty hunter she is.




SENSEI CHECK!

This episode was one of seven that Studio Pierrot outsourced to the newly founded Kyoto Animation studio. So the interesting shuusei of the Natsuki layer is likely the work of Yasuhiro Takemoto [武本 康弘], who was episode animation director for Episodes 2 and 18 as well.

He soon after shifted to the more prestigious role of series director, handling Ep. 68 of Inuyasha, and quickly compiled a strong record of work for the major Ishihara projects, doing storyboards, key animation, and episode animation direction for AIR, Clannad, Kanon, and Haruhi Suzumiya. He was quickly recognized for his directing work on major series such as Full Metal Panic (Fumoffu and Second Raid), Lucky Star, the 2014 success Amagi Brilliant Park, and, most recently Miss Kobayashi's Dragon Maid (2017).

Tragically, Takemoto was killed in the the arson attack on Kyoto Animation's production studio on July 19, 2019.


Click to open in new window