Shinku reads the play poster: layouts and extras
Source: TV
Layers: 1
Sketches: 3
Cel Number: A1, B1, B2
Standard size

No Background

Added 1/30/2017

This set included some intriguing details at the beginning of the set, which could easily have been done in sloppy "good enough" style as it shows Shinku with her face concealed by the poster. And, indeed, the featured genga shows the cushioned doll case cover and some details of Shinku's bonnet, but completely hides her face. Interestingly, though, a number of sketches worked out what her expression would have to look like behind the poster.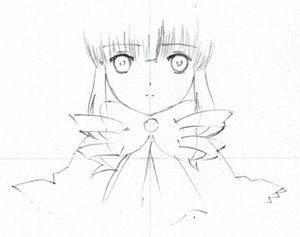 The reason for this is that, when the inbetweeners were executed, the artist would need to know just what Shinku looked like behind the sheet of paper, so that as she lowered it (and, as we've noted, began to glance over toward Elder Jun), the expression would be both credible and fluid. Take a moment to look at the two layouts in the thumbs, where Shinku keeps staring out directly at the viewer, and see how much weaker this cut might have been. Then move ahead to the next item and appreciate the final product's simple beauty.


Click to open in new window