Elder Jun and Shinku watch the play crash: Reanimation
Source: TV
Layers: 1
Sketches: 5
Cel Number: A1-A5
Standard size

No Background

Added 1/30/2017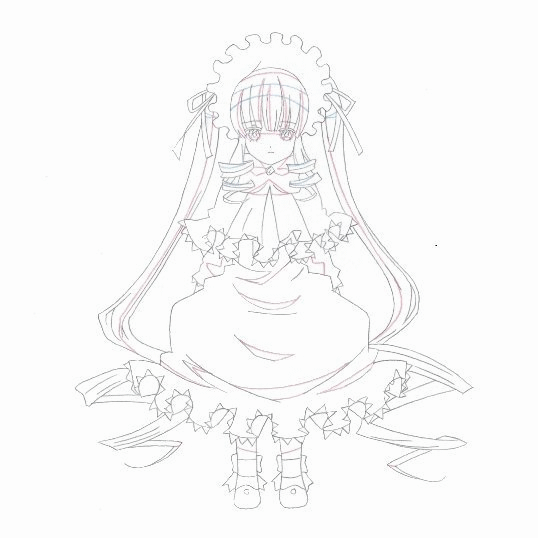 After Elder Jun rises from his seat, as if he's about to respond to Kirakishou's call, Copy Shinku quickly commands, "Get back down!" and reinforces it with this gesture. Jun can't see it, as he has his back to Shinku, but we see it, and it adds a touch of energy to this moment. I've given the opening position a full second (though the cut gives it more time to allow Jun to rise from his seat), then brought in the other four dougas at the timing sheet's 8-to-a-second tempo, and ended with a quick fade.

It's worth watching repeatedly to see how complex Shinku's decisive action was rendered. Notice that her arm goes up, then "rebounds" slightly at the end of the cut. And the hair on the opposite side of her body droops slightly as her right arm (on our left) shoots up. Nice.