Neneko arrives to help Tomokazu
Source: TV
Layers: 1
Sketches: 3
Cel Number: A1 END
Oversize, 13W x 24.5H

No Background

Added 1/27/2017

Episode 3, cut 146. The hapless Tomokazu has been trapped into playing what bids fair to be a lethal game of dodge ball by a mob of high school bullies. The tide turns, however, when one by one his companions in the Yumeria quest show up and agree to take his side. The most dramatic appearance comes from Neneko (wearing a shirt labeled "Helper D") who pops up on top of a fence with a dramatic sky behind her, the mysterious kitty Koneko on her shoulder.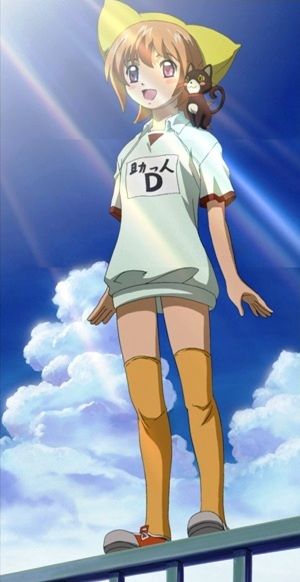 This poster-sized layout (13 x 24.5 in.) is unusually well drawn and is a highlight of this sketch set. The other sketches, with only Neneko without fence or background, are much slimmer (8.25" in width) I've added the dramatic genga in the first thumb. The simpler rough (second thumb) is probably the work of episode animation director Masaaki Kannan (河南 正昭), an experienced sakkan with credentials from Full Moon o Sagashite, Rurouni Kenshin, and Urusei Yatsura.


Click to open in new window