Hans and Lulu fly with Big Bird
Source: Movie
Layers: 3
No sketches available
Cel Number: A11, B1, C2
Standard size

No Background

Added 1/21/2017

The first complication in this adaptation of the Grimms' fairy-tale plot has Hans fall into a deep abyss along with Lulu, the magical fox whom he has befriended. They manage to escape by convincing a hapless monster bird to transport them out of the deep chasm. (The animation of this scene, showing the bird's not-very-competent flying skills and a series of near disasters, is justifiably one of the film's famous animated sequences.) Here they have broken out into clear flying weather, and the three chat for a moment. Sequence numbers: A11 (Big Bird), B1 (Hans), C2 (Lulu).

The featured image is cropped to show Lulu and Hans in more detail; the thumbnail gives a fuller scan of this cel. This scene appears around 21:05 in the YouTube version.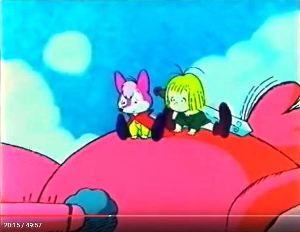 Lulu was voiced by Toshiko Fujita, a seiyuu with an extensive repertory in early anime, including performance of the theme song and the role of the young fairy-tale lad Pierre in Toei's Wonderful world of Puss 'N Boots (長靴をはいた猫, "Nagagutsu o Haita Neko"). This hugely successful 1969 film cemented Toei Studios' dominant role in the emerging industry, and an image of the feline protagonist became the company's iconic logo. Hans was voiced by Katsue Miwa, who also was an important figure in this era, creating Unico in both anime films devoted to this famous Tezuka character. Jouji Yanami, the comic voice of Big Bird, likewise appeared in many anime series, notably as the narrator in all of the Dragon Ball/Dragon Ball Z TV and film manifestations.


Click to open in new window