Grimm's Fairy Tales: The Golden Bird (Madhouse, 1984)
Source: TV
Layers: 1
No sketches available
Standard size

No Background

Added 1/14/2017
Updated 8/13/2018

A predecessor to Nippon's Grimm Masterpiece Theatre TV series, this story is based on the Grimms' Tale 57: Der goldene Vogel. Produced in 1984 by Madhouse Studio, it was not released until 1988, when it was bundled with an extended episode of Maple Town and a compilation of three episodes of Cho Shin Sei Flashman, and shown in theatres as part of the "Toei Manga Matsuri" [Toei's Manga Festival].

Directed by Toshio Hirata, with character design/animation supervision by Manabu Ohashi (a veteran of Metropolis), the show is not very well known, even among experts of early anime.

The website www.pelleas.net, however, has a very helpful review of the film.. It notes that, as the film was not released until three years after its completion, rumor had it that it was a "lost masterpiece." This is an overstatement, says the reviewer, but adds, "in terms of visuals alone this is certainly an anime film of great interest. It has some of the most ornate animation and creative design work of any contemporary anime movie. . . . Sumptuous, loudly theatrical backgrounds combine with the fluid Madhouse animation to create consistently beautiful visuals in every scene."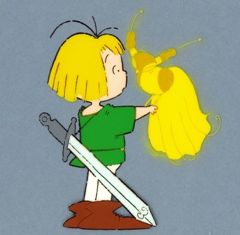 Cels and Souvenir Booklet

This gallery collects the original art I've been able to pick up from this film, along with scans of a color booklet sold at the time of its release to attendees.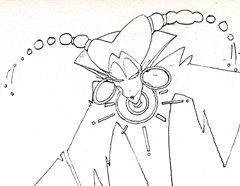 The Golden Bird: Settei

This gallery adds a complete settei or compilation of character design model sheets that subsequently showed up for sale. Each page features the full sheet, but two more detailed scans of details are added in the thumbnails.