Malta trapped in a web
Source: Movie
Layers: 1
No sketches available
Cel Number: B13
Oversize, 13.25W x 10.5H

No Background

Added 12/28/2016
Updated 12/28/2016

Scene 61 J (according to notes on the top of the cel). Malta has been released by some of her sympathetic fire-folk and sets off in search for the legendary Moebius Hill, where she hopes to meet Syrius again. Not knowing the way, she wanders through a series of unpleasant places, in one of which she gets entangled upside-down in a spider's web until she can figure out the riddle that her captors require her to answer.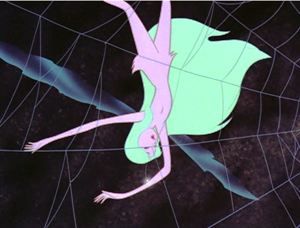 The well-preserved air-brushed wings really do look as perturbed as Malta is mentally at this moment.