Reki sees Rakka's wings sprout: Copy background
Source: TV
Layers: 1
No sketches available
Standard size

Copy Matching Background

Added 12/28/2016
Updated 12/28/2016

Here is the copy background, marked "C-23" in the upper right corner. As the focus is on Reki here, it is not very sharp in detail (to avoid making the frame cluttery), but it carefully records details of the community room where this scene occurs. A framed picture is visible to the upper left, and to its right you can see the curtained closet into which Reki has ducked a few seconds earlier to get the medical supplies she needs to help Rakka. Neither of these details are visible in the finished version of this trailer, as you can see from the screen cap.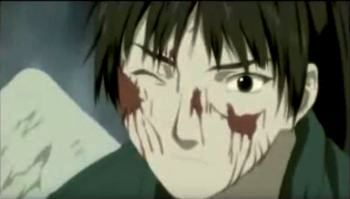 Reki's head is cropped so tightly that the framed picture is left out, and the doorway to the closet is hidden behind her head. I first scanned this rilezu following the directions on the copy background for placing the right-hand registration slot (visible to the left of "C-23"), and matched the details of the background to the left of Reki's head. But scanning this cel so high meant that "C-23" was now visible on the right margin, so I had to crop the scan more tightly than usual. This "matching" scan is included as the first thumb. The image featured on the previous page was made by placing the rilezu about an inch lower on the background, which makes the framed picture visible and also lets you look at more of the detail planned on the dougas and rendered on the rilezu.

The second thumb is a snapshot of the rilezu with the frame provided by Office F&O, certifying that this cel was authorized by Studio Radix.


Click to open in new window