Reki sees Rakka's wings sprout
Source: TV
Layers: 1
Sketches: 1
Cel Number: A17 + B8
Standard size

Key Cel
End Cel
Copy Matching Background

Added 12/28/2016

In a hair-raising scene near the plot's beginning, Reki helps the newborn haibane Rakka deal with the pain of her wings sprouting. When they emerge, they shake convulsively, splattering Reki's face with blood. Sequence numbers: A17 + B8.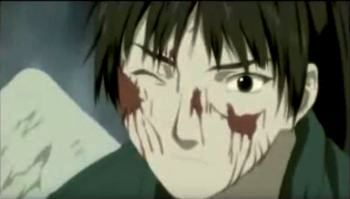 This rilezu comes from the trailer, which, interestingly, animated this key scene differently from its famous counterpart in Episode 1. If you screen that scene, you'll see Reki from a slightly farther distance as she reacts to the splatter; then she slides to the floor with her back to us. One wonders if the animation in the trailer was originally planned to be used in this episode but was rejected as too graphic.

As with other rilezu, this came with a "clean-up" douga that combined the two layers onto a single sheet of paper, front and back. The thumbnails add scans of both sides of this sketch. Move ahead for a closer look at the copy background and a few extras.


Click to open in new window