Mizuki as a Bunnygirl 2
Source: TV
Layers: 1
Sketches: 1
Cel Number: A9 END
Standard size

Key Cel
End Cel
Copy Matching Background

Added 9/19/2016
Updated 1/26/2017

Cut 160A. The bunnygirls naturally attract a throng of admirers. Here Mizuki is visibly ambivalent about the rowdy crowd's reaction to her costume and the anatomy it imperfectly conceals.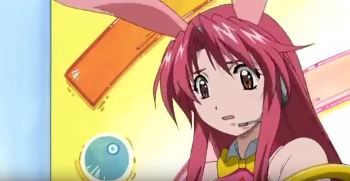 I don't generally purchase rilezu art, dang my purist soul, but Yumeria art is nice and hard to come by. And as this image reflects a moment leading up to the pan genga (next item) that I'd picked up before, I was happy enough to bite.

The douga (A9 END) in the first thumb does appear to be the actual one used in production rather than a "clean-up" sketch by the rilezu staff. The second thumb adds a scan of the laser-printed background provided by the studio.


Click to open in new window