Intense Natsuki
Source: TV
Layers: 1
Sketches: 1
Cel Number: A2
Standard size

No Background

Added 9/16/2016

Episode 9: Friendship like Ice. This lovely, intense image shows Natsuki doing what she does best: stalk a collar. At the end of this episode, she and Sakura have discovered a gang of kidnappers running what seems to be an especially ugly child sex ring. Sakura tells Natsuki to have patience: she wants to apprehend both the kidnappers and their customers. But the cat-girl's dander is already up.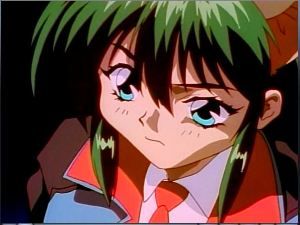 I liked this image at once when it appeared for auction as a lone item out of context. A quick check of my other HP sketches found one other gengaman for this series who made the "A" in the keyframe number in this distinctive way, and that artist worked on this episode. I don't know who this animator was, but the work on this sketch shows considerable artistic skill and talent.

But on comparing it to the screen capture, you'll soon notice that animation director Shinichirō Minami must have reworked it thoroughly, as was this artist's habit. Notice how many details, especially in the hair and uniform, have been refined between the genga image and the final product.