Natsuki and Sakura spill the hotpot
Source: TV
Layers: 1
Sketches: 3
Cel Number: A1, A2
Standard size

No Background

Added 9/16/2016

Episode 9 (Friendship like Ice). During a long lean period, the bounty hunters run low on cash and consequently on food. They break into the lair of a gang of tanuki thieves they have been stalking, and while their collars have decamped, they have left a delicious hotpot full of nutritious broth, veggies, and tofu. Unfortunately, Natsuki and Sakura are so hungry, they can't help fighting over it, and eventually it gets spilled on the ground. This sketch shows their funny reaction.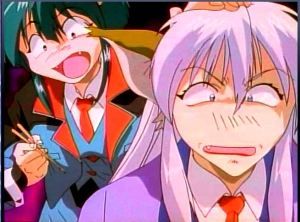 I've featured a nice nearly full shuusei by Shinichirō Minami (南 伸一郎), who also took charge of the animation process in Episodes 4, 16 and 21. Minami has a long dossier of credits, mostly for key animation and episode animation direction, beginning with classic series like Urusei Yatsura (1985-91) and the Mobile Suit Gundam series (1988+) and continuing without break to the present. He is especially noted for his work on the Yu-Gi-Oh! franchise.

I've noted elsewhere in this gallery that Minami's roughs tend to be simpler than those done by other Hyper Police animation directors. This sketch set shows us that he nevertheless oversaw the work of his key animators in careful detail. In this cut, as with the next cut in this gallery, he executed nearly full shuusei gengas for each keyframe. If you flicker this with the genga it corrected (first thumb), you'll see that the only part not substantially rethought is Natsuki's right hand, holding the chopsticks.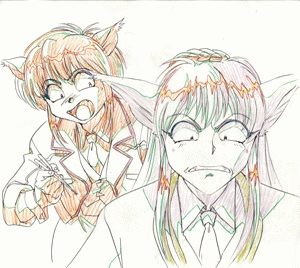 The second thumb adds Minami's shuusei genga for the second key, showing both partners shifting from shock to profound disappointment over the loss of their free dinner.


Click to open in new window