Malta happy to see Syrius again
Source: Movie
Layers: 1
No sketches available
Cel Number: A30 END
Oversize, 13W x 10.5H

Key Cel
End Cel
No Background

Added 9/16/2016

This cel is from the same cut as the last, though the sequence is intercut twice with images of Syrius greeting his new love from the surface of the water. Malta is delighted to see him and starts to call out his name -- but then as quickly stops herself, for who knows if the fire children might be spying on their secret tryst. Sequence number: A30 END.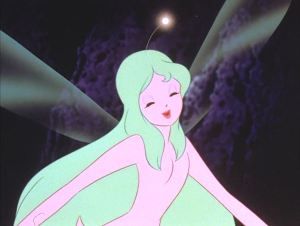 This cel arrived well bagged and protected, though it is a shame that at an earlier date it sustained some visible damage toward the bottom edge, perhaps by sticking to its immediate sequence-buddy. I've cropped the image to hide most of this damage, but you can see flecks of lost paint along the lower length of Malta's left arm. By contrast, the fragile airbrushing of her wings and the "antenna" that sprouts from her head were beautifully preserved. I've used a piece of art paper to give this a background with the same impact as the seaside grotto where this scene takes place.

It was amusing to notice, when I moved cautiously frame by frame up to the A30 END image, that the camera crew was clearly in a hurry when they photographed this sequence of cels. Take a closer look at the screencap and notice that they failed to brush off the big hair that landed on Malta's other arm when this one went under the camera.