Malta in captivity
Source: Movie
Layers: 2
No sketches available
Cel Number: A22, B22
Oversize, 13.25W x 10.5H

No Background

Added 9/16/2016
Updated 12/28/2016

The third meeting of Syrius with Malta ends with the two being surprised on both fronts, and after a fierce battle they are separated and taken back to their respective kingdoms under heavy guard for having violated the rule against contact between the enemy cultures. Here Malta, still visibly stunned by the punishment she has endured in the affray, is insisting to her mother, Queen Themis, that she still intends to meet Syrius on the Hill of Moebius during the coming Sun festival. Two royal guards attend her at full alert. Sequence numbers: A22 (fire guards), B22 (Malta).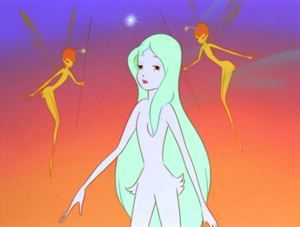 This cel has survived well, with Malta's airbrushed wings and glowing "antenna" being in especially good shape. The two layers, unfortunately, are now tightly stuck together. I've given this an art paper background that helps show off her wings and those of her guards as well.