Natsuki offers Sakura some dry cat food: Roughs
Source: TV
Layers: 1
Sketches: 3
Cel Number: A1
Standard size

No Background

Added 5/14/2016
Updated 9/16/2016

Episode 9 (Friendship Like Ice), cut 55. During a long lean period, the bounty hunters run low on cash and consequently on food. Trying to be helpful, Natsuki offers her partner a handful of dry cat food nuggets. (Back when she had money, she'd bought a six month supply on sale.) The nuggets are nutritious and better than nothing, she comments, even if they could use a touch of salt. (But, as you see in this cel image, which comes in a few cuts later, the proud fox-spirit erupts at the very thought of subsisting on cat food.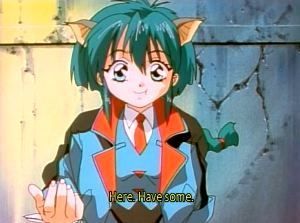 This unusually full sketch set gives us a chance to see the animation direction style of Shinichirō Minami. I've noted that Minami's roughs tend to be simpler than those done by other Hyper Police animation directors, though they are effective. The rough featured above typical of his work at this stage.

I've added the two layouts as thumbnails. You'll see that the layout artist had a very different conception of the scene, showing Natsuki wearing some kind of belt bag that she keeps the kitty krunchies in. Not surprisingly, Minami opted to simplify the animation that this detail would require and simply have the catgirl reach into her right pocket.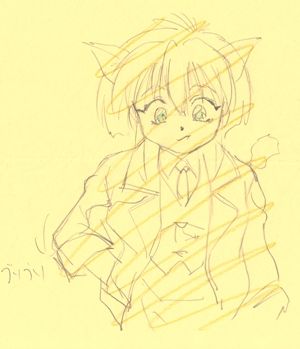 This shift was underlined with a little drawing on the front of the timing sheet, evidently also by Minami.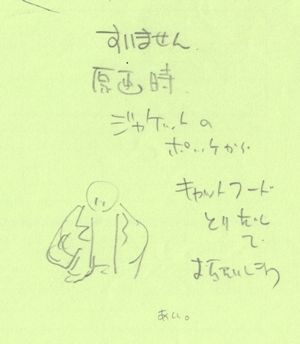 The cursive note seems to say, "Sorry -- when the genga was done, there was a mistake about taking the cat food out of the jacket pocket."

Minami evidently was unusually dissatisfied with the gengaman's work, as he did full or nearly full shuusei gengas for each of the artist's keyframes. This shows the more careful side of Minami's work, so I've shared all these shuuseis in the next items.


Click to open in new window