Natsuki offers Sakura some dry cat food: A1
Source: TV
Layers: 1
Sketches: 2
Cel Number: A1
Standard size

No Background

Added 5/14/2016

As finally determined, Natsuki's action is a simple one: she starts by reaching into her right jacket pocket and rooting around a little inside..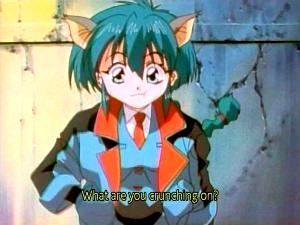 But it had to be right, and so the animation director, Shinichirō Minami, produced a full shuusei genga for this frame. I've added the less-satisfactory genga in the thumbnail: notice how "cartoony" the eyes are here in that version, with too-small pupils and glaring whites. Also, notice that she is apparently looking down toward her pocket, with her eyes not quite in synch. The eyes are much more natural in the shuusei given above, but it is interesting that Minami took the opportunity to adjust nearly every other detail in the keyframe, as you can see from the simple flicker of the two versions below.





Click to open in new window