Reki and Hikari hurry home: Copy background
Source: TV
Layers: 1
No sketches available
Standard size

Copy Matching Background

Added 2/11/2016
Updated 12/28/2016

As production art from this series was so completely destroyed, I thought it worthwhile to put up a scan of the copy background that came with the previous rilezu. It shows the high quality of the studio's work as well as its unexpected complexity. See how sharply tilted the perspective is. And while the rilezu was mated with it as a frozen image, you can see from the screen cap below that this background was scanned, then digitally manipulated to make it seem as it was rushing past the two characters in a blur.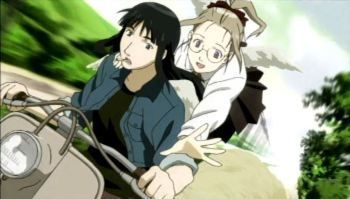 The background has been left uncropped so you can see how it was built up from broad splashes of color, with bushes, ruts, and leaves worked up later with a smaller watercolor brush. Nice.