The Jig is Up: cut 18
Source: TV
Layers: 1
Sketches: 3
Cel Number: B1, C1, D2, F1
Standard size

No Background

Added 11/10/2015

Episode 2, cuts 18, 20. But a moment later, it dawns on all three that they have no choice but to come clean about the Sohma curse. Shigure, sighing a mushroom-shaped sigh, takes the lead on this, while Kyo continues to impersonate the angry cat and Tohru sprouts a huge sweatdrop.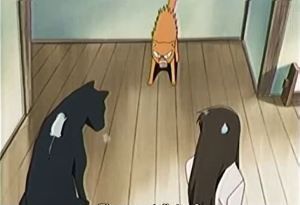 This too is based on a frame from the original manga, though the placement of the characters has been changed to fit the landscape-oriented frame of the anime rather than the original's portrait orientation.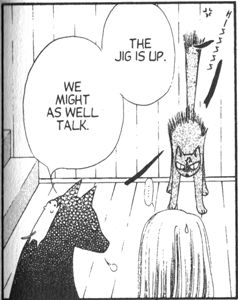 I've featured the layout, but you can see some of the dithering over how the four would be posed in the interesting genzu on pink paper (first thumb, likely by episode director Suzuki) and the final genga (second thumb), showing the final placement. Kyo in particular went through a number of changes, and the final form seems to have been struck in the rough by animation director Sokabe: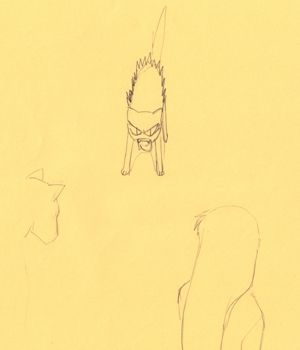 Click to open in new window