Syrius removes the Eye of Algorac
Source: Movie
Layers: 1
No sketches available
Cel Number: A35
Oversize, 13W x 10.5H

No Background

Added 11/5/2015

Despairing after he has been imprisoned for treason, Syrius finally tears the Eye of Algorac from his neck and gives it to Teak, asking him to return it to Glaucus as a sign that he no longer wishes to be king of the sea-folk. Sequence number: A35.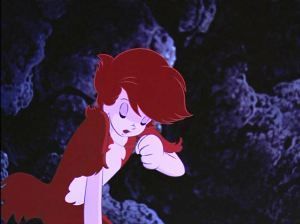 This action, though well intentioned, causes the upheaval that eventually leads to the plot's tragic ending. You cannot actually see the Eye in this cel, but if you look closely, you'll see that Syrius has it in his fist and is about to rip apart the cord that ties it around his neck.