Malta on the Hill of Moebius
Source: Movie
Layers: 1
No sketches available
Cel Number: B34
Oversize, 13W x 10.5H

No Background

Added 11/5/2015
Updated 11/6/2015

In the wake of the uproar caused by Algorac's escape, Malta finds herself on a newly formed peak high above the water. She awakens to find the sun beginning to eclipse and looks around in wonder as the magical plants sprout and begin to shed their spores toward the sky.Sequence number: B34.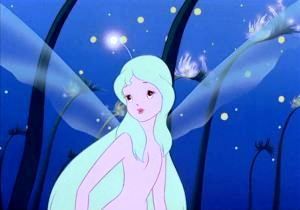 I usually try to scan cels against a sheet of art paper that approximates the dominant color of the original background. But when I tried that, the wings looked washed out. After some trials, the cel "liked" this piece of neutral gray paper, which complemented Malta's body colors and contrasted well with the airbrushed wings.