Yōsei Florence (Sanrio, 1985)
Source: TV
Layers: 1
No sketches available
Standard size

No Background

Added 11/5/2015
Updated 11/5/2015

This relatively unknown animated film focuses on Michael, a young musician whose career is threatened because he neglects his practice out of love for gardening. In a dream, he is taken by Florence, a flower fairy, to a magical world, where he has a series of surreal adventures, accompanied by clips of classical music.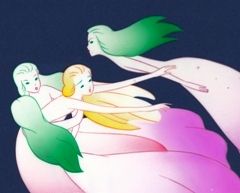 It was directed by Masami Hata, an eminent figure in golden-age animation. Hata directed the landmark 1971 TV series Andersen Monogatari or "The Tales of Hans Christian Andersen." In 1981 he directed Syrius no Densetsu/The Sea Prince and the Fire Child for Sanrio, and he brought a similar feel to Florence in 1985. Shigeru Yamamoto, one of the animation directors for Syrius, carried out the same task for Florence.

Reviewers compare it to Disney's Fantasia, noting that the sequences have little dialogue and no character development or advancing plot. Rather, the film attempts to explore the emotional impact of music in a dream-like symbolic setting. Meticulously done with with cels that were hand traced and airbrushed on the front, it allegedly cost Sanrio an emperor's ransom to produce.

Sadly, it was a financial failure in domestic markets that marked the end of Sanrio's brief but impressive run of anime movies. Nevertheless, it did gain a North American release under the odd title A Journey through Fairyland. Though available only in a dubbed VHS tape, it attracted its share of fans through video store rentals.

"This is a delicate, gentle film aglow with emotion and filled with moments of sheer perfection unsurpassed in anime," one reviewer comments. Surviving cels, however, appear to be very scarce. I've been fortunate to pick up enough to host this little tribute to this obscure anime.