20.073: Mikael throws a baseball
Source: TV
Layers: 1
No sketches available
Standard size

No Background

Added 5/26/2015
Updated 6/10/2015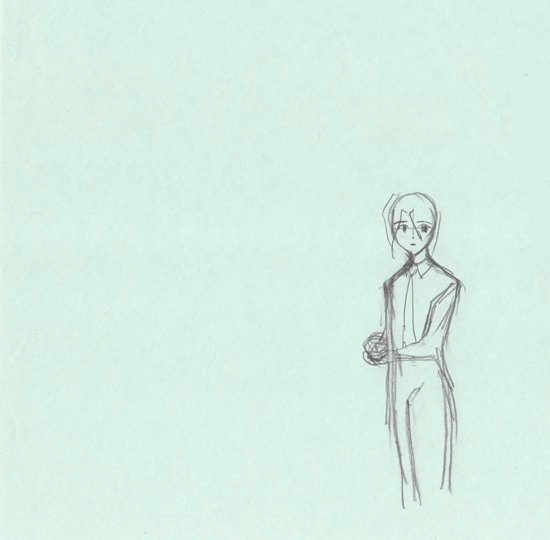 Step 20 (Close Dream, Far Person), Cut 73. Looking for Raphael, who's decided to teach his pupil a lesson by vanishing, Mikael happens on Noelle, who tosses a baseball his way. She waves happily to him and asks him to toss it back. He does so, with his usual professional air.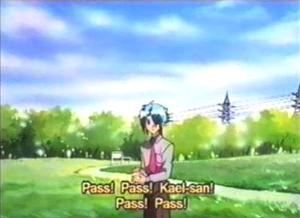 This fat sketch pack, made up of rather small images of Noelle and Mikael, was made more interesting by the set of preliminary animation drawings that came with it. Most of these came with directions to the animator on how this seemingly simple motion should be realized. These seem to be critical notes to animation director Ikeda on a first draft of the keyframes for these cuts. Given the attention to how to realize these little action scenes, it seems likely that they are by senior animation director Hiromi Kato.

I've brushed these out of the animation above, but given an unaltered scan of the first of these, with its longish note, in the first thumb. The second thumb gives Kazumi Ikeda's corresponding rough.

The notes read:

1.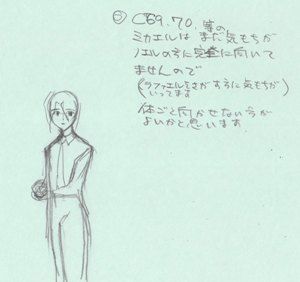 In cut 69, 70 etc, Mikael still is not completely facing Noelle (he still looks like he is searching for Raphael) so… I think it is best not to make his body face her.

2.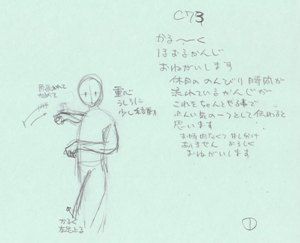 Cut 73. Please give this the feeling of a liiiiiiight toss. I want this to properly convey a feeling of the passage of time on this carefree day. (To the animator) Sorry there isn't much time, but "yoroshiku onegaishimasu." [In this case the friendly phrase denotes, "please do this."]

[Top left]: Add more frames as the motion pulls back.

[Top right]: Move the center of gravity back a little bit.

[Bottom]: Lightly lift the left leg.

3.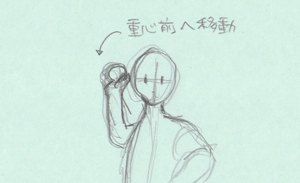 Move the center of gravity forward.

4.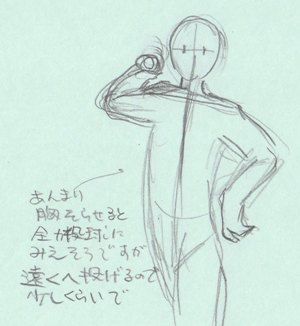 If you don't really turn the chest away it still looks like he is pitching but because he is throwing far away, please turn the chest a bit.

5.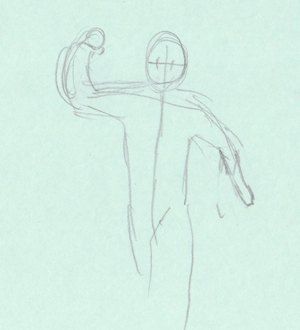 [No note]

6.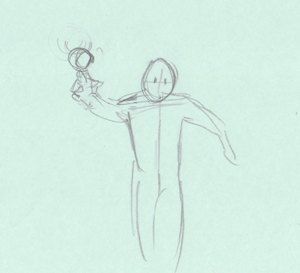 [No note]

7.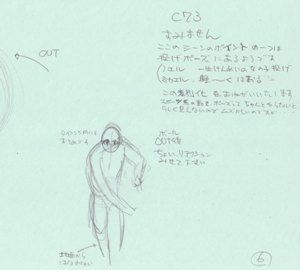 Cut 73. I'm sorry, one focus of this scene seems to be the throwing pose. (Noelle – the throw of a girl who is doing her best. Michael – liiiiiiight toss.) Please make this distinction. If sports poses are not done properly, then it doesn't look like they are playing that sport. It's difficult but … do your best.

[Top Left:] It's also a little slow timing-wise.
[Top Right:] After the ball goes out, please show us a bit of a reaction.
[Bottom:] [Foot] does not come up off the ground.



Click to open in new window