15.137: The Back of Noelle's Head
Source: TV
Layers: 1
No sketches available
Standard size

No Background

Added 5/26/2015
Updated 5/29/2015

Noelle's head is seen from an odd angle in this cut, perhaps to keep the viewer's attention on Mirror Muse's first appearance.

The details of this pose are worked out in this genzu, probably by episode director Nanako Shimazaki. The note on the genzu above (see detail in second thumb) reads: "Please present this with the head tilted in puzzlement."

Notice that Noelle's shoulders are pointing forward, so if she were standing normally, we'd see her face in a 3/4 profile. But she's turned her neck all the way to her left, so her hair bow now takes the place of her eyes.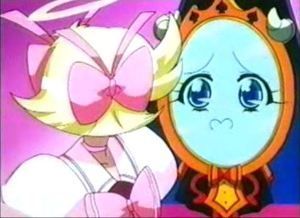 And yes, that's the way she appears in the final version. The B4 genga is added in the first thumb.


Click to open in new window