15.137: Mirror Muse appears
Source: TV
Layers: 1
No sketches available
Standard size

No Background

Added 5/26/2015
Updated 5/30/2015

Later, Noelle invites Muse over to her house. Suddenly, she disappears, and instead Noelle finds herself talking to a magic mirror.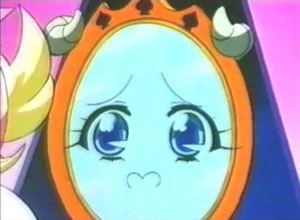 Featured above is a layout or (likely) layout shuusei. Someone (probably senior animation director Hitomi Kato) had serious misgivings about this early version of this cut. The note on the bottom (see detail in first thumb) says, "I'm sorry but if you show too much of the floor, no matter what, Muse is going to end up looking small so please pull the camera back a bit more. Sorry Mr. Animation Director, please do whatever you can."

The final form of this cut involved a tricky track-back from a close-up of Mirror Muse to include Noelle, whose image cheats to the right during the camera motion. So both sketches (and presumably the cels) were oversized. I've added the nice genga for the Muse layer as the second thumb. And no floor appears at any time.




SENSEI CHECK!

It is one of the fey conventions of this fey series that whenever Muse does one of her shapeshifts, no one has any idea who she is now. No one, that is, except for the audience, who at once recognizes her horns, her "ace of spades" icon, and her tearful expression.


Click to open in new window