17.054: How romantic!
Source: TV
Layers: 1
No sketches available
Standard size

No Background

Added 5/21/2015
Updated 7/2/2017

Here the focus shifts to Masaru and Shinobu (the "bug boys" I call them, as they sometimes appear in homemade insect costumes), who react to Noelle's declaration with sarcastic ostentation.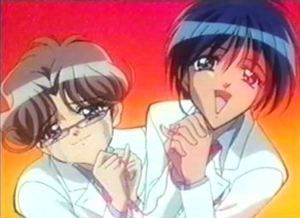 This typically random moment occasioned more than the usual attention from the studio, judging from the number of comments written on this copy layout. (See thumbs.) They say:

[Blue pencil on right]: For both cuts 54 and 55, use the red "setting sun" color gradation.

[Along bottom, left to right]:

Twinkles in they eyes.

S.L [Sightlines, i.e., which way the characters are looking. Someone has put arrows pointing in opposite directions, but the one on the left has been canceled with a note:] I think it is best for the character to look this way [i.e., straight out]

Please make the red string bigger.

Mr. Art Director, please put these [two cuts, 54 and 55] together in the style of a manga. [That is, make them look like two still frames in graphic novel style].

You can see the genga and Kazumi Ikeda's rough for this cut at Vapalla's cels.




SENSEI CHECK!

Notice, by the way, that this odd couple also has a red string that connects their pinkies. This is one hint, among many, that these two make such an uproar over Yuusuke's romantic attachment to deflect attention away from their own same-sex bromance.


Click to open in new window