17.057: Yuusuke and Noelle are a "red string"
Source: TV
Layers: 1
No sketches available
Standard size

No Background

Added 5/21/2015
Updated 5/28/2015

In any case, the bug boys' celebration makes Noelle even more happy to proclaim her eternal attachment to Yuusuke. He is, as usual, mortified by the attention he's getting as he sits at his desk, looking glumly at the string around his pinkie.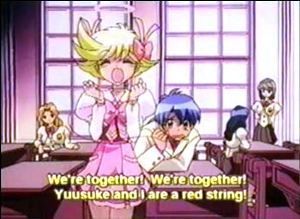 However, the artist of this art board is less interested in the red string than in getting the perspective of those tricky windows and the back wall exactly right.