Full Moon o Sagashite: Meroko
Source: TV
Layers: 1
Sketches: 1
Standard size

No Background

Added 5/12/2015
Updated 1/28/2019

The flighty but dauntless rabbit shinigami Meroko strikes a characteristic pose.




SENSEI CHECK!

Full Moon wo Sagashite was a phenomenally successful manga by Arina Tanemura, running in the shōjo magazine Ribon 2002-04. It concerns a young girl who has been told that she has a cancer in her throat that will take her life in a year, which grieves her as she had dreamed of becoming a famous singer. She meets the two pediatric shinigami who had been assigned to make her passage to the afterlife smooth, and convinces one of them to allow her to realize her dream. She then does a henshin into a sixteen-year-old with a healthy throat, then goes to a teen idol try-out. Unexpectedly, her audition is an immediate success, and so the two shinigami have to let her continue shape-shifting back and forth between the terminally ill little-girl Mitsuki and the glamorous teenaged singer Fullmoon.

As with this mangaka's previous success, Kamikaze Kaitou Jeanne, it was quickly adapted to anime, with Studio Deen doing the honors. As usually happened, the anime, despite running over a full 52 episodes in 2002-03, quickly caught up to Tanemura's plot as it was appearing in manga form and so the writers had to resolve the story in its own way. Nevertheless it gained a strong following and even today shows a preponderance of "Masterpiece" and "Excellent" ratings at Anime News Network.

Overall director was Toshiyuki Kato, who began as a gengaman (Magical Girl Lyrical Nanoha) but soon moved to storyboarding and episode direction (Chrono Crusade, Gankutsuou, Rurouni Kenshin, Simoun, among others). Other than Full Moon, he has served as overall director for Ginga DensetsuWeed, Code-E / Mission-E / Level E and the Stardust Crusaders arc of Jojo's Bizarre Adventure.

The character design/overall animation director was Yuka Kudo, who has since handled the same tasks for Kyo kara Maoh!, as well as doing episode animation direction for a wide variety of series. For instance, my gallery contains rough sketches that I can reasonably attribute to Kudo from Angelic Layer and from Ouran Highschool Host Club.




Caution! Fussy Notes

Sketchwork from Toei's adaptation of Tanemura's Kamikaze Kaitou Jeanne is uncommon but comes on the market from time to time, but the artwork from Full Moon was, notoriously, never released. Rumor has it that it was (like the art for Haibane Renmei) all destroyed by the studio. Only a few photocopied items have so far emerged, notably a settei set and a storyboard, owned by Rallihir's Cel Gallery, and a set of photocopied OP images, now in crackpot 27's gallery, Requiem for Lost Souls.

All destroyed ... except for this sketch and the next item? They were sold together on YHJ on September 14, 2014 [auction m127492065], by twin_angels_xx, one of the most reputable of commission sellers. Tanemura follower crackpot 27 immediately jumped on them. But, though they were clearly autograph sketches, they lack the notations (episode, cut, or sequence numbers) that would confirm that they were really part of the studio's production process. Gengas and on most roughs and shuuseis bear sequence numbers, along with shorthand notes showing how this image relates to others in the cut. And without episode or cut numbers, it's difficult to place them in the lengthy Full Moon saga.

So could they be fan drawings? Even -- given the notorious scarcity of art from this series -- forgeries? Lacking a firm provenance, the lot did not attract much bidding, and even crackpot 27, the lucky buyer, soon put them up for offers. I thought they were worth having, though, even with their unknown and unlikely history, and after a little dickering the two of us worked out a deal that made us both happy.

My head kept saying, "They can't be real production sketches!" But when I unpacked this sketch, my eyes and my heart said, "Don't worry, be happy!" This one in particular is a delightful drawing, full of life and personality, even though (as a close look with a lupe showed) it was the result of many erased first ideas and visible rough starts. (Notice the way Meroko's top hat started as a very rough set of lines and ovals before it took its final shape.)

But what is it? With no sequence number or other annotations, that's hard to tell. Maybe it could be an animator's practice drawing, based on the pose the character is given in the settei pack: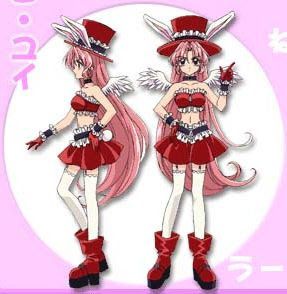 [This colorized image is from one of the art books that accompanied the anime: for a scan of the studio settei image on which it's based, see Rallihir's Cel Gallery.]

Yes, many similarities, but notice that the drawing is by no means a slavish copy of the settei image. For one thing, the two images show Meroko raising opposite hands, and the other arm is braced on her hip in the settei but hanging loose in the sketch. Also, the rather severe expression in the settei has been softened into a friendly smile. Or maybe the process went the other way? Could the mystery sketch possibly be a preliminary drawing by character designer Kudo as the artist worked up Meroko's look and costume for the settei?

The design of the fledge wings and the decoration on the front of the bikini top are also notably different from the settei, which would be hard to understand if the artist were working from a screen cap or a model drawing. But it would make sense if the artist were still trying to envision the character and to put all these details into finished, standard form.

The sheet of paper on which the drawing was made provides some extra information. The scan featured above is cropped to highlight the art, but the first thumbnail shows the complete sheet, left in low contrast so you can appreciate its weather-beaten physical condition. It's not standard size (9.5 x 10.75 in) but shorter and wider (8.25 x 11.75), approaching the "letterbox" size that finally became standard for CGI work. Placing the sheet next to a production sketch that used the "letterbox" format shows it to be nearly the same in dimensions -- but the registration holes at the top of this sketch are skewed 0.5 in to the left and the sheet has visibly been trimmed above them by about 0.35 in. So it is not a standard blank for production work.

Maybe just a piece of scrap paper, randomly cut down from an oversized genga sheet, which the studio or artist trimmed and used for rough drafts? Certainly not the standard blank that a forger would want to use.

As the rumpled paper on the right side of the sketch shows (visible in the complete scan) the sheet stuck out from the stack it was placed in and suffered some minor folding and scuffing. It also suffered some less conspicuous dings and puckers throughout. Clearly it did not go into a cut bag with sketches the same size, but spent some time by itself in an unhealthy environment. One possibility is that it was plucked from a pile of paper headed for the trash by someone who liked it. Or it might have been picked out of a trash can and bootlegged home by a Studio Deen employee who liked it.

It may never be clear whether the Meroko sketch above is a bona-fide Full Moon production sketch or an excellent fan-sketch. One point in its favor is its obvious artistic excellence, which is what drew me to it from the start. Look at how the ruffles on Meroko's dress show real three-dimensional presence. And the expression, though swiftly drawn, is genuinely smile-provoking, not at all like a stiff tracing from a book or screen cap. Look at the second thumb for a detail of Meroko's head and shoulders, where you can see the signs of false starts, erasures, and the way the image has been creatively worked up, stage by stage, from very impressionistic pencil strokes. Exactly what you'd expect from a studio-production genzu or practice drawing.

That would be nice to think ... but alas there's no way of knowing. However, if this possibility intrigues you as much as it does me, you might compare the style of the sketch above with those that I've more confidently attributed to Yuka Kudo.

Mmmm . . . swiftly drawn, real three-dimensional presence, worked up, stage by stage, from impressionistic first efforts with visible second thoughts and erasures . . .

And we learn a bit more from its equally enigmatic auction-mate. For that matter, go right to the next item!


Click to open in new window