Flashback: Karada-chan watches Hiro prepare supper
Source: TV
Layers: 1
No sketches available
Standard size

No Background

Added 2/21/2015

Cut 188. Intervening cuts show Hiro at his job at the pharmacy. He looks up at the clock, dashes down the street, then hustles up to his apartment with a bag of groceries. We see him frantically trying to put supper together, while Karada-chan watches from behind, sad because her onii-chan is so obviously frantic to get dinner on the table and also because she wants to help.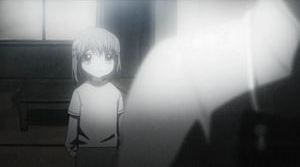 As with the previous cut, this set came without any roughs, indicating that Ikuko Itō executed the layout, which went directly to the genga stage. This layout is featured above, with the genga and douga versions of little sad Karada in the thumbs. The set did include a partial A1 genga shuusei on light green paper (not imaged), also presumably by Itō, which mainly changed the design of Karada's long skirt.

The Karada layer is an A1 TOME image that never moves. Below is a small version of the Hiro level (B1-B9) reanimated.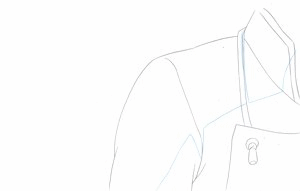 It's not very flashy, but planned in a careful way. The first five frames come in at a steady 8/second, and then Hiro pauses for a second and a skosh, as he thinks out how he's going to attack the next part of supper. Then the last four frames roll by, also 8/sec., with a half second pause at the end. This scene could have easily been designed with a short bank of Hiro chopping and chopping or mixing and mixing. But instead Itō chose a simple move with animation that does not loop but moves from start to finish in a naturalistic way.


Click to open in new window