Shōko sizes up the situation: layout and rough
Source: TV
Layers: 1
Sketches: 3
Cel Number: A1, C1
Standard size

No Background

Added 2/21/2015

Cut 197. At the end of the flashback sequence, we return to Hiro, still staring at Karada-chan, playing happily in the sun. Shōko comments, "So it's been four years now ... [since the two of us were in bed together]." But Hiro is totally oblivious and does not acknowledge her intimate remark in any way, verbal or non-verbal.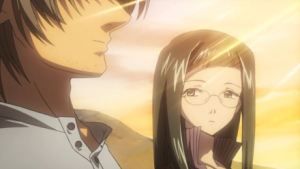 Featured above is a nice rough on light-green paper, likely by Chief Animation Director Ikuko Itō, with the less successful layout in the first thumb and an interesting "box-eyes" genzu, I believe by episode director Episode Director Takashima, which changes the perspective. (Notice that the layout shows the two from Hiro's level, while the genzu and following sketches move the camera angle down to Shōko's level.)

The work routine changed a little with this cut. Previous cuts in this scene had shown seven steps from layout to douga, with junior AD Oki doing the first layout and genga corrections and senior AD Itō refining his work with a second set of corrections. But here we have the normal five steps: layout, rough, genga, genga shuusei, douga. Except that the cut still has two supervising animators: Itō did the roughs, it seems, and Oki did the genga shuuseis.




SENSEI CHECK!

An interesting silent psychological drama follows: Shōko looks at Hiro for a long while, irritated by the way he's ignoring her. (This is the image featured above.) Then, as the cut continues, she starts to say something, but before she can get a word out, she's interrupted by Karada, who calls to her onii-chan that it's time to go. Shōko instinctively glances over to a second, and the camera shifts to the little girl, then back to Hiro, who's still watching Karada and smiling obliviously.

Then in the continuation (Cut 200), we see Shōko again in tighter perspective: she's still staring at Hiro but now visibly upset. A subtle eye-glimmer starts (I actually never noticed it until I saw the timing sheets and the dougas for the glimmery eye highlight). Her head drops, and her eyes (still glimmering) turn toward the happy little girl in the sunlight. She has no chance to be Hiro's partner any more, she realizes, because he's now so entirely committed to raising the young girl he's taken on as charge.

In other words, Karada-chan has become her rival!

And, don't you think, she's wishing in her heart of hearts that she could be that cute and little again, and in that way get back into her lover's heart? Mmmmmm....


Click to open in new window