Nils and Carrot riding on Mårten (reanimation)
Source: TV
Layers: 1
No sketches available
Cel Number: A133-A144 END
Standard size

No Background

Added 2/21/2015
Updated 9/26/2017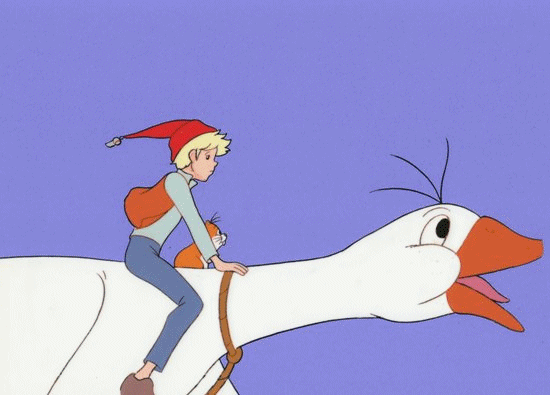 This set came as a continuous series, A133 through A144 END, so I've reanimated it in a simple way, using the standard eight-to-a-second timing. It proved very dynamic, with the action covering one of Mårten's powerful wingbeats. Notice how the perspective shifts, moving in toward the goose's head so that we first see Nils in profile, then in a three-quarters pose.

Since the action takes place only in the animator's mind, it is remarkable how realistically the "camera's eye" seems to be flying in midair alongside Mårten, then coming in closer and turning to face Nils more directly. Also watch how Nils's whistle, riding at the tip of his red cap, does a steady up-and-down in the reanimation, in synch with the rise and fall of Mårten's wing. (In obedience to laws of physics, it trends up as Mårten's wing is passively curling upward, then down again as the wing beats and pushes the goose's body up and ahead.)

In the animation, I've digitally airbrushed out the paint loss visible in the three damaged cels to give a less cluttered view of how these frames work together.