Tsubaki goes for the kill: A2
Source: TV
Layers: 1
Sketches: 3
Cel Number: A2
Standard size

No Background

Added 11/22/2014
Updated 6/5/2017

Battle 7 [A fight to the limit.. Misaki's last chance!], cut 109. Having lost in the previous round to Hatoko (and exposed her angel Hikaru to a serious injury), Misaki is facing elimination in the preliminaries. Matched against the deus Maria, a loner obsessed with winning at all costs, and her angel Tsubaki, she at first holds back, not wanting to risk injuring Hikaru once more.

Seeing her opponent's vulnerability, Tsubaki rises high in the arena, then goes for the quick crushing win with a dive-bomb kick attack.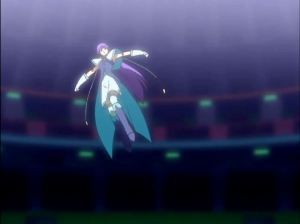 Caution! Fussy Notes

The animator responsible for the featured sketch remains a mystery. The Japanese credits give a mysterious "句林樫六" or "CleanOak6" as the episode's animation director. According to Japanside databases this assignment was the only credit given this artist.

Normally, the episode animation director executes the rough (or pre-genga shuusei), oversees the key animators' work, and, if necessary, corrects his/her work in a post-genga shuusei, usually a partial polishing important details such as the eyes. Most junior animators serve a lengthy apprenticeship doing inbetweeners and key animation before being given a senior assignment of this responsibility. And once given such a job, episode animation directors get more such assignments, often graduating to the high-context roles of chief animation director or character designer (or both for the same series.)

But "CleanOak6" appears out of nowhere, directs this episode's animation, and then vanishes without working on any subsequent projects. So it seems likely that "CleanOak6" is a pseudonym for an artist who was on contract with another studio and so did not want to be credited by name for his/her work for the new studio BONES.

In this case, too, it is clear that the pre-genga and post-genga shuusei sketches were executed by different artists with distinct approaches to the character. While it is true that roughs can be extremely rough at times, it is not normal to have the entire run of gengas replaced with complete shuusei images. That suggests that someone found the first artist's version of this cut unsatisfactory and took it over.

The shuusei gengas show a very sharp pencil point and a dramatic sense of character, two elements missing from the much less impressive roughs and gengas. (And notice how each artist made the letter "A" in the sequence number in distinctively different ways.)

The rough from the next cut also seems stylistically different from the shuusei, but in my third cut from this episode (see the items ahead) the roughs already show a sharp pencil point and a good sense of drama. BONES, being a new operation, outsourced much of its work on this early project, and so perhaps the first stages in working up this cut were assigned to less experienced artists, then whipped into shape by the episode's animation director.

Or perhaps senior animation director Takahiro Komori intervened, as senior ADs were prone to do in Asatte no Hōkō. I don't have enough material from this series to say for sure.

In any case, the shuusei gengas are obviously the strongest work in this sketch set, so I've highlighted these, adding the pre-genga roughs and the gengas in the thumbnails for contrast. This key (slightly cropped and enlarged) shows Tsubaki rising into the air to prepare what what this doll and her deus Misaki expect to be the coup de grace for hapless Hikaru. It shows a lot of attitude.

Compare the genga (second thumb), which seems to show Tsubaki uncertain, a little afraid of flying, perhaps.




SENSEI CHECK!

Misaki's opponent Maria says, at the beginning of the bout, "In my own name, I had no choice. But my doll's name [Tsubaki] definitely is my choice!" For English-speaking fans, this statement is cryptic, but for those familiar with Japanese popular culture, it makes a lot of sense. First, "Maria" is a foreign name, borrowed from Christianity (a fringe religion there) and implying a humble handmaiden of God, which by no means fits the embittered Maria.

And "Tsubaki" is an indigenous Japanese name that means "camellia," a flowering shrub native to Japan (though now grown worldwide). Shōjo Tsubaki [少女椿], or "The Camellia Girl," was a stock character of kamishibai, the traveling "paper theater" popular entertainment that preceded manga/anime in the period before and during World War II. Starting life as a poor flower-seller, she was sold into Japan's extensive sex industry, eventually becoming a star performer in popular drama. So Maria's ironic use of this character's name suggests a dogged intent to prevail at all costs in the competitive world that she has entered.

The name may also have a deep link to the worldwide influence of Alexandre Dumas's famous drama La Dame aux Camélias, whose central character is a high-class prostitute with an intense attitude toward life. So "Camille" might be an apt Western translation of "Tsubaki."


Click to open in new window