Shōko-san making a fuss: A1
Source: TV
Layers: 1
Sketches: 4
Cel Number: A1
Standard size

No Background

Added 11/20/2014
Updated 11/9/2018

Cut 162. The scene cuts back to Shōko, who is insisting (a bit too emphatically) that her moving to Kanocho was just happenstance, Hiro means nothing to her, and as it's been so long, he probably has...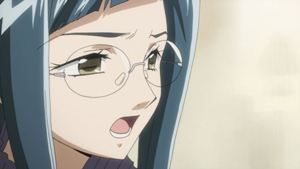 The genga is featured above, with episode animation director Ryoichi Oki's rough in the first thumb and chief animation director Ikuko Itō's response to it in the second.




SENSEI CHECK!

This cut displays the unusually meticulous animation process used by J.C. Staff in complex and important scenes such as these. There are several things going on at once: on the surface, a visibly nettled Shōko is making a scene that makes Toko back off and draws a curious Karada's attention. But we learn quite a bit about Shōko's emotions during this long cut (ten full seconds, according to the timing sheet). She's flustered, then saddened by the memory of her affair with Hiro, then taken aback. All of these feelings needed to register in the images.

And, like many of the close-ups of the principals, it is a three-quarters profile, which presents challenges much more difficult than the usual face-on or sideways poses. Remember that Shōko does not exist, except in the animators' imaginations, so they can't call her in to pose so they can get the foreshortening right by sketching her from life. And glasses! To what extent do they distort the details of her face? (Not to mention how the frames are put together, which needs to be consistent from cut to cut.)

And so we learn a lot about the production team. Look at the rough (first thumb) by Ryoichi Oki: it's pretty good. But if you examined the sheet on which it's drawn, you'd see that both eyes have been drawn, erased, and redrawn so many times that the thin paper has begun to ripple. And no wonder: the three-quarters profile pose makes it devilish hard to get both of those eyes to look in the same direction.

Now look at the second thumb: a nearly full shuusei by chief animation director Ikuko Itō. Again, the sheet shows that both eyes were drawn and redrawn many times. You can actually see the ripples on that stressed sheet of paper in the scan. Her damned, damned left eye! (Shōko's left, that is, the one on the right side of the sketch.) And the foreshortening for the twin lens of the glasses has to be right! And which way is her nose pointing?

This leads to the genga; and then Oki does another full shuusei on light salmon!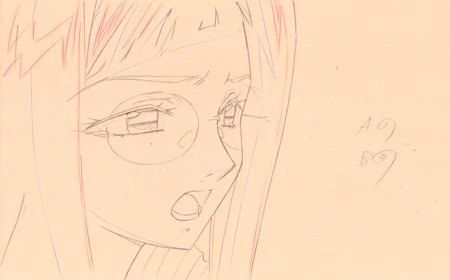 I looked at this second shuusei for a long time, reasoning that it must have been executed after the genga, as is customary. But it is all but identical to the gengas, which made me think that the gengaman based the key images on this very precise second shuusei sketch.

"Flickering" scans of these and other similar "second shuusei" sketches with their gengas shows that the basic details stayed the same. After a lot of looking and comparing, to see which way the dougas went, I finally concluded that they were post-genga after all.

Yet it remains a mystery why Oki did such complete sketches, which are essentially "clean-up" drawings. Perhaps Itō wanted it that way, finding a complete shuusei easier for her to add her last touches. (And yes, there's a second shuusei no shuusei on light green paper [not imaged] that makes a few changes in Shōko's eyelashes.)

Seven levels of development from the layout to the douga: an unusual extravagance of effort.


Click to open in new window