Shōko-san making a fuss: A3
Source: TV
Layers: 1
Sketches: 3
Standard size

No Background

Added 11/20/2014
Updated 2/20/2015

That pause encourages the curious Karada-chan to break in to the conversation, drawing Shōko's attention.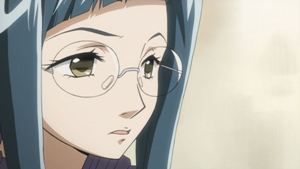 This image also was the result of a complex collaborative process. The motion at the end of this cut is deceptively simple: when Karada says "Ano?" Shōko lifts her head a little and looks at her with a touch of surprise. That's what Episode Director Takashima's sketchy layout indicates.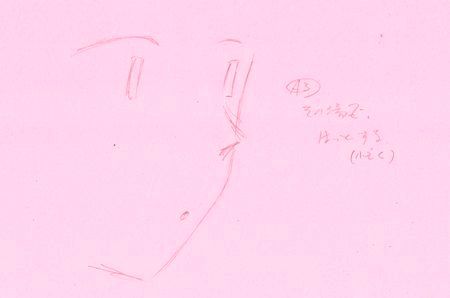 (These sketches, almost always on thin pink paper, show a distinctive impressionistic style of drawing that I call "box eyes." Similar "box-eyes" sketches also appear in sketch sets for Episode 10, which Takashima also directed.)

But this little move turned out to be tricker than you might think. Oki's rough (first thumb) filled out Takashima's tentative post, but Itō saw (in her shuusei rough, second thumb) that Shōko was looking at Toko before she bowed her head. And as Karada is coming in just beside the older woman, instinctively Shōko turns her head a little to her right side. So her nose and those damned, damned eyes have to swivel the tiniest bit over so it looks like she's now looking at the little child. That insight resulted in the genga, then a careful complete second shuusei by Oki that refined the expression further.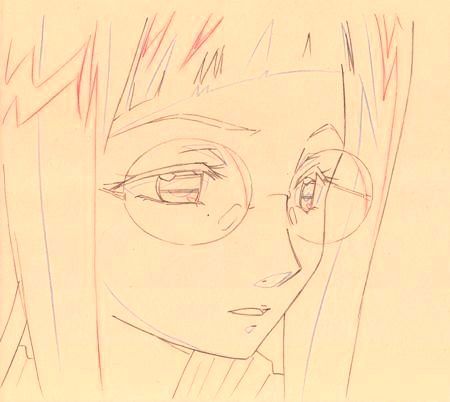 And so all of this work went to the gengaman and later to the douga artist. Done and done? Maybe: see the next item.


Click to open in new window