Karada-chan wants to be a little older NOW
Source: TV
Layers: 1
Sketches: 5
Cel Number: A1 END
Standard size

No Background

Added 11/20/2014
Updated 2/20/2015

Cut 168A. The next cut focuses on the chagrined Karada-chan's face, emphasized with a strong zoom in.




This A1 END image stays on the screen for more than three seconds, so the animation team collaborated to make it as strong as possible. Featured above is the expressive shuusei rough by Senior AD Itō, which without much additional work became the basis of the genga (second thumb) and the identical douga (not imaged).

The layout that began the process was rather clunky, however: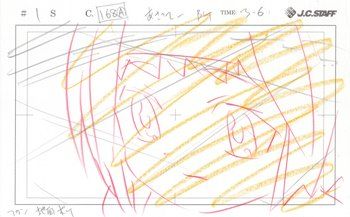 That rather awkward expression was tried out by Episode AD Oki in the unimpressive rough given in the first thumb. That led to a reaction by episode director Daisuke Takashima, with his distinctive "box eyes" approach, which moved Karada's head to the right and leveled it.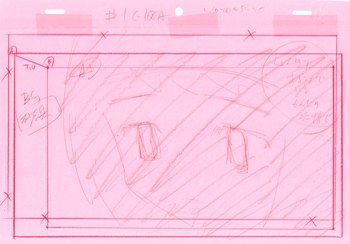 Itō took it from there. The result is not a standard face-on portrait but also not a tricky three-quarters perspective either.


Click to open in new window